Outboard motors are a popular choice for powering boats and other watercraft, and there are various brands to choose from. Choosing the best outboard motor for your boat can be a difficult task. There are numerous aspects to consider, ranging from size and weight to power and price.
In this post, we will compare the two most popular outboard motor brands: Tohatsu and Mercury. We'll go over the benefits and drawbacks of each brand so you can make an informed decision about which one is best for you.
Tohatsu Outboard Motors
Tohatsu outboard motors are a type of boat engine that is used for powerboats. They are made by the Tohatsu Corporation, which is a Japanese company. Outboard motors are usually gasoline-powered, and they are mounted onto the outside of the boat.
They can be either inboard or outboard motors, though outboard motors are more common. Inboard motors are mounted inside the boat, while outboard motors are mounted on the outside.
Tohatsu outboard motors are available in a variety of horsepower ranges, with the following options available to purchasers throughout the brand's product lines (Four Stroke, Two Stroke, EverRun, JET, and LPG):
Portable design (low power): 2.0 hp, 2.5 hp
Mid-range power: 25 hp – 140 hp (25, 30, 40, 50, 60, 75, 90, 100, 115, 140)
High power: 150 hp -250 hp (150, 200, 225, and 250)
Some people use them for fishing, while others use them for recreational activities like boating and sailing.
Tohatsu outboard motors are also popular among boat owners who live in areas where there is a lot of shallow water since they can move the boat around easily in these conditions.
Advantages of Tohatsu Outboard Motors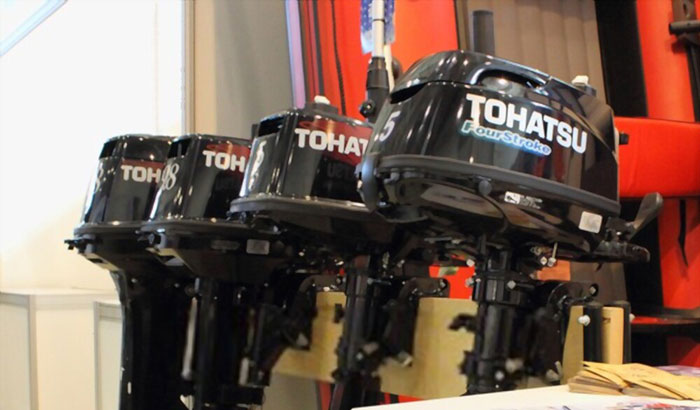 Fuel Economy
Tohatsu outboard motors are designed to provide you with the best fuel economy possible. Indeed, different product lines will be more fuel-efficient than another.
For instance, fuel consumption of the Tohastu MFS60 is 18.9 liters per hour. And, indeed, a 4-stroke outboard will be around 50% better fuel efficiency compared to a 2-stroke product.
Durable Construction
Tohatsu outboards are built to last with its 4-step corrosion protection. They feature a number of innovative design elements that make them more resistant to wear and tear, including various paint layers.
These products are also identified by professionals as bullet-proof engines, tested in harsh ocean conditions.
Easy Maintenance
Tohatsu outboard motors are easy to maintain, which makes them a great choice for those who don't have a lot of experience working on engines. This means that you can spend more time on the water and less time in the workshop.
Their device offers protection and immediate warning in case of overheating, safety lanyard, low oil pressure, and more.
Wide Range of Applications
Tohatsu outboard motors are versatile and can be used for a wide range of applications, from fishing to sailing to cruising.
They are created with top-notch technology that ensures salwater and harsh weather. Therefore, these outboard motors are a great option for those who want a single motor that can do it all.
Disadvantages of Tohatsu Outboard Motors
Outboard motors can be quite loud, and this can be a problem for people who are looking for a quiet motor
Tohatsu motors also tend to be more expensive than some of the other brands available, so this is something to keep in mind if you are on a budget
Mercury Outboard Motors
Mercury outboard motors are a popular choice for boat owners because they are very reliable and efficient. However, they can be expensive to maintain, so it is important to understand the basics before you decide if this type of engine is right for you.
Mercury outboard motors are a type of boat engine that uses mercury as its fuel. They are popular because they are very reliable and efficient.
There are two main types of mercury outboard motors: 2-stroke and 4-stroke. 2-stroke engines are more common, but 4-stroke engines are becoming more popular due to their fuel efficiency and lower emissions.
They also have 6 main types (lines) of engines with varying horsepower:
FourStroke: 2.5 hp – 150 hp
SeaPro FourStroke: 15 hp – 150 hp
Mercury Jet: 25 hp – 200 hp
Mercury Pro XS: 115 hp – 250 hp
Mercury OptiMax: 200 hp – 250 hp
Verado: 175 hp – 300 hp
Advantages of Mercury Outboard Motors
Variety of Horsepower
Mercury offers a wide range of outboard motors, from 2.5 horsepower to 300 horsepower, so you can select the perfect motor for your needs.
There are lightweight models in the FourStroke product line, providing horsepower from 2.5 – 150 hp. There is also a powerful one from the Verado line that promotes a horsepower of 300.
Power and Performance
Mercury outboard motors are renowned for their power and performance, making them a popular choice for fishing, skiing, and other recreational activities.
Fuel Efficiency
Mercury outboard motors are fuel-efficient, which helps reduce your operating costs. These motors can ensure excellent acceleration and power, resulting in good fuel-efficiency.
Low Maintenance
Mercury outboard motors require minimal maintenance, making them hassle-free to own and operate.
Disadvantages of Mercury Outboard Motors
One of the main disadvantages of mercury outboard motors is that they are more expensive than other types of outboard motors. A mercury outboard motor typically costs up to $9,000.
Finally, mercury outboard motors are more likely to break down than other types of motors. This is due in part to the fact that mercury outboards are more complex than other types of motors. As a result, they are more likely to experience problems and require repairs.
Tohatsu vs Mercury Outboard Motors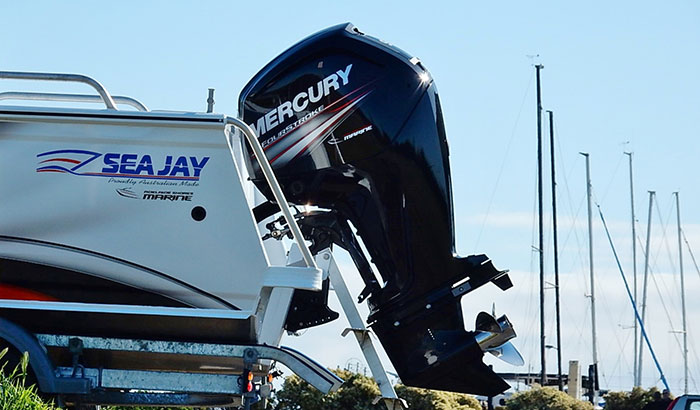 Both Tohatsu and Mercury make quality outboard motors, but there are a few key differences between them.
For starters, Tohatsu motors are typically a bit cheaper than Mercury motors. They also tend to be smaller and less powerful, though this varies depending on the specific model.
Mercury motors, on the other hand, are more expensive but offer more power and flexibility. They also come with a longer warranty than Tohatsu motors. Ultimately, the best choice for you depends on your needs and budget.
Performance
When it comes to performance, Mercury motors tend to be a little bit more powerful than mercury motors. This means that they can move larger boats and vessels more easily, making them a good choice for larger craft.
However, Tohastu motors are still plenty powerful enough for most applications, so you won't be sacrificing much performance if you go for a product in the high-power range.
Fuel efficiency
Another important consideration when choosing an outboard motor is fuel efficiency.
Mercury motors tend to be a bit more efficient than Tohatsu motors, meaning that you will need to refuel them less often. This can be a big advantage if you do a lot of fishing or boating, as it means you can spend more time on the water and less time filling up your tank.
Price
Finally, let's take a look at the prices of these two brands. Generally speaking, Tohatsu motors are a bit cheaper than mercury motors.
However, there are some exceptions due to the new models and their horsepower. You can check out various models from their series to determine which one fits your budget the best.
Conclusion
So, which outboard motor is right for you? If you need a powerful motor that is also fuel-efficient, then a mercury motor may be a good choice.
However, if you are looking for a more affordable option, Tohatsu motors are a great choice. No matter what your needs may be, there is sure to be an outboard motor that fits your budget and your needs.