Are you in the market for a new boat motor? If so, you may be wondering whether to choose a Volvo or Mercruiser engine.
Both brands have innovative designs, but which is best for you? In this article, we will compare Volvo and Mercruiser boat motors so you can make an informed decision.
We will look at factors such as price, performance, and features. Let's get started!
Volvo Boat Motors
Volvo is a name that is usually associated with cars and trucks, but the company also has a line of boat motors.
The Volvo Penta line of boat motors is a well-respected brand in the boating world, and for good reasons. Volvo boat motors are known for their quality, durability, and performance.
One of the biggest advantages of Volvo boat motors is their fuel efficiency.
Many other brands of boat motors rely on gasoline engines, while Volvo Penta offers both gasoline and diesel options. Gasoline engines are not as fuel-efficient as diesel engines, so a Volvo Penta diesel engine is the way to go if you're looking to save money on gas.
Volvo also offers a wide variety of options when it comes to power.
You can choose from single or twin engines, inboard or outboard motors, and mechanical or electronic steering. The wide range allows you to find the perfect configuration for your boat and your needs.
Finally, Volvo boat motors are backed by a generous warranty.
If something goes wrong with your motor, Volvo will fix it free of charge. This peace of mind is invaluable when spending thousands of dollars on a new boat motor.
However, there are also some drawbacks to Volvo boat motors.
One of the biggest complaints about them is their high price tag.
Additionally, they can be a bit more difficult to work on than some of the other brands on the market.
But overall, Volvo boat motors are a great choice for boaters who want the best possible performance and durability.
Mercruiser Boat Motors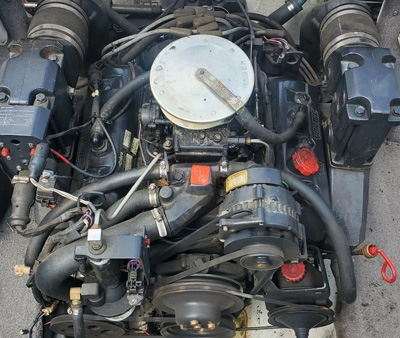 Mercruiser is a company that produces boat engines. Mercruiser Boat motors are known for their quality and reliability. If you're looking for an engine that will last, Mercruiser is a good choice.
They make outboard, inboard, and I/O (inboard/outboard) engines for boats of all sizes.
Mercruiser has been in business since the 1940s, and they are one of the most popular brands of boat motors on the market today. If you're looking for a reliable engine for your boat, Mercruiser is a great option.
There are a few different types of Mercruiser engines to choose from.
Outboard motors are the most popular type, ideal for smaller boats.
Inboard motors are perfect for larger vessels.
I/O motors offer the best of both worlds – they're smaller than inboard motors, yet offer more power than outboard engines.
Plus, Mercruiser's customer service is second to none – if you have any problems with your engine, they'll be more than happy to help you out.
However, Mercruiser engines do have a few drawbacks.
Outboard motors are not as powerful as some of the other types of Mercruiser engines.
Inboard motors are larger and heavier than outboard motors, which can make them difficult to transport.
I/O motors are the most expensive of all; they're also the largest and heaviest.
Volvo vs Mercruiser Boat Motors
There are a lot of factors to consider when choosing a boat motor, but Volvo and Mercruiser are two of the most popular brands.
Both offer a wide range of options, so it can be tough to decide which one is right for you.
Here's a look at some of the key differences between Volvo and Mercruiser boat motors:
Features
When it comes to features, Volvo and Mercruiser engines are fairly evenly matched. Both brands offer various options, including powertrains, fuel types, and control systems.
However, Volvo does have a slight edge in terms of technology. For example, their engines have advanced safety features like collision avoidance systems.
Price
In terms of price, Volvo engines tend to be a bit more expensive than Mercruisers. This is because Volvo is a more premium brand. However, you typically get what you pay for, and Volvo engines are often seen as higher quality than Mercruisers.
Performance
In terms of performance, Volvo and Mercruiser engines are pretty comparable. They both offer a lot of power and are capable of reaching high speeds.
However, Volvo engines tend to be a bit more efficient than Mercruisers, meaning that you will get better fuel economy with a Volvo.
Conclusion
Volvo and Mercruiser are two of the world's most popular boat motor manufacturers. Both brands have pros and cons, but which is the best for you? Ultimately, the decision comes down to personal preference. Consider your needs and choose the brand that best suits your needs.